VASILIOS PAPAPITSIOS
THIS PAGE IS DEDICATED TO COMMISSONED AND DOCUMENTARY WORK
about VASILIOS PAPAPITSIOS
EDITOR, DIRECTOR, PRODUCER, CINEMATOGRAPHER
DOCUMENTARY AND NARRATIVE FILM, MUSIC VIDEOS, PROMOTIONAL MEDIA, INSTALLATION, PERFORMANCE ART, EVENT RE-CAP, DRONE VIDEOGRAPHY, ANIMATION
GOOD ENOUGH (2019)
12 EPISODES
editor, videographer
A group of queer black and brown friends navigate coming out, sex, family, relationships and scandalous shenanigans – all while learning how to love themselves, flaws and all. As the characters explore alternative relationships and messy decisions, they each learn that their complex experiences push them to settle for more than GOOD ENOUGH.
SAVAGE (2019)
producer, director, writer
Nico Savage navigates becoming HIV-positive in Hollywood in this refreshing comedy drama about being Cute, Queer, Black and Poz but still typical quirky Nico in a magical realist landscape.
The Letter B (2019)
Documentary Film
story editor, associate producer
The Letter B tells the story of the life and passing of Brendan Cameron Stampley, a young queer person whose sudden departure shook Downtown LA's underground nightlife community. The film explores Brendan's history from his childhood as a mixed-race queer person in Ventura County, California, to his journey of self-acceptance in San Francisco and Los Angeles. Thematically, The Letter B explores underground queer nightlife in Los Angeles, HIV/AIDS and its impact on Brendan's life, psychedelics and consciousness, the search for self and how family, chosen and biological, shapes who we are. Through the eyes of those who knew him the deepest, the film explores the radical act of being yourself in a world that convinces you otherwise.
Scroll down to view my recent work!
Reach out for booking, rates and equipment rentals using the form below.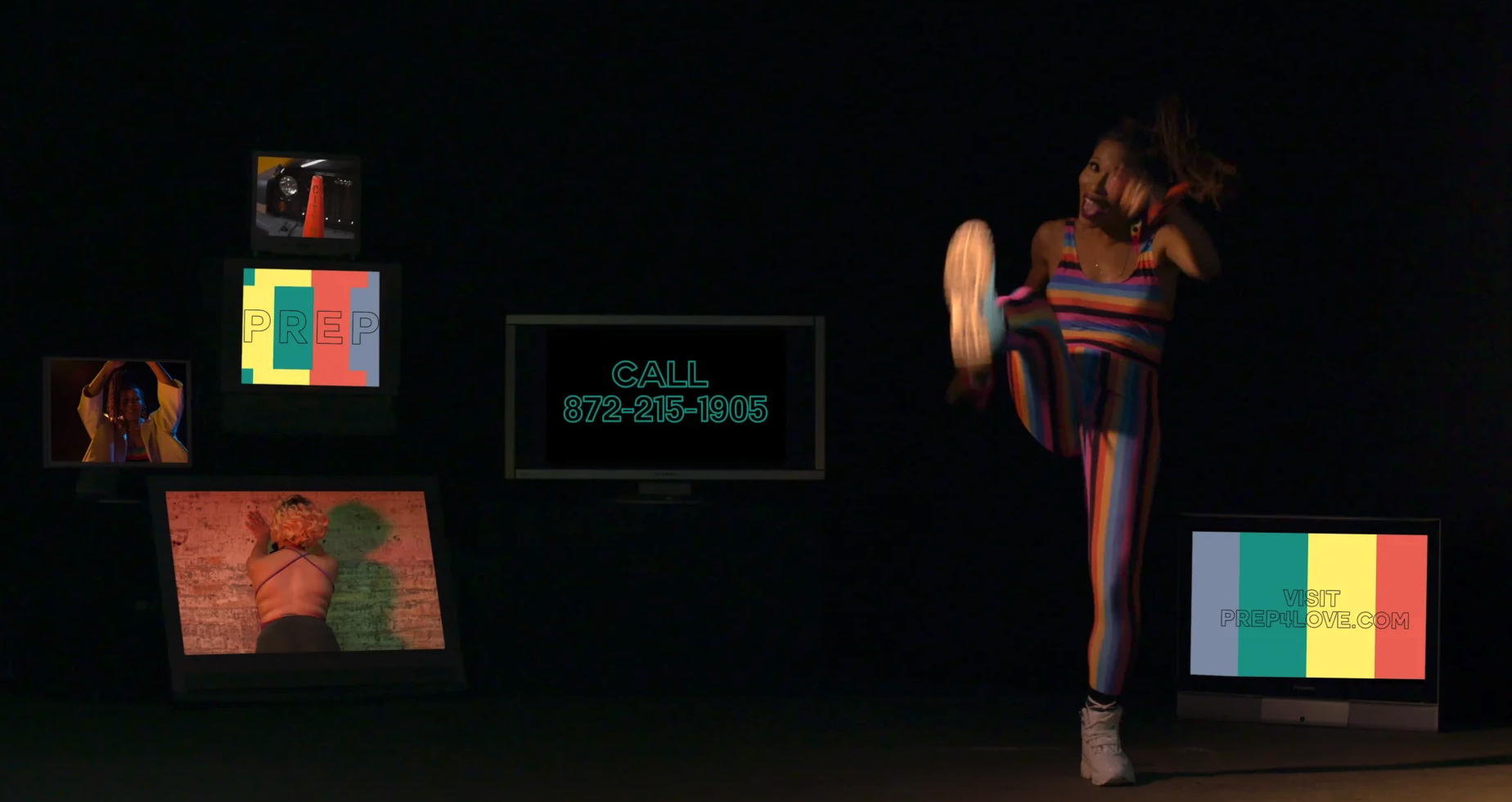 about CATCH DESIRE VISUAL EP
produced by
KARLA HUFFMAN BARRY
DIRECTED BY
ELIJAH MCKINNON. ASHLEY BATTLE, DEMETRIUS BARRY
EDITOR
VASILIOS PAPAPITSIOS

The CATCH DESIRE VISUAL EP is written and performed by Chicago-based OBGYN and rapper, Dr. Every Woman (aka Wendy Mcdonald), as well as appearances by local influencers, such as recording artist and model Syren, advocate and actor Damon Williams, choreographer and stylist Darling Shear, and dancers Melody and Melissa Koops.

The CATCH DESIRE EP features three original songs written and recorded by Dr. Every Woman. Each song aims to uplift the narratives and experiences of sexually liberated black women while also promoting the value of PReP through witty remakes of all-time-favorites Computer Love by Zapp, Shoop by Salt-N-Peppa and Anaconda by Nicki Minaj.
The visuals were produced by People Who Care, Inc. in collaboration with PrEP4Love and the Chicago Department of Public Health and directed by Elijah McKinnon, Ashley Battle and Demetrius Barry and filmed at Silent Funny. The project was funded by a grant from the Chicago Department of Public Health. Learn more about PrEP at prep4love.com.
Love is contractible. Lust is transmittable. Touch is contagious. Catch feelings, not HIV.
PrEP is a once daily medication that can reduce your risk of getting HIV.




PROTECT YOUR MAGIC - DR. EVERY WOMAN (Shoop Parody)
Protect Your Magic - "There's nothing wrong with options. This Salt-N-Peppa flow reminds us that HIV still is present in the community. She is empowered and in control of her choices and her health with PrEP as her in case condom's breaking" back up plan. — Dr. Every Woman (a.k.a. Dr. Wendy McDonald)
P4L - DR. EVERY WOMAN (Computer Love Parody)
P4L- "You are powerful, but so vulnerable. Control your sexual safety; thanks to modern technology. This song is intended to inform women that PrEP exists and that she can reclaim her sexual health faster than she can shout. Zapp!" — Dr. Every Woman (a.k.a. Dr. Wendy McDonald)
ONE LITTLE PILL - DR. EVERY WOMAN (Anaconda Parody)
One Little Pill- "A public service announcement from the Gyne Minaj, this rap empowers women that she is in control over who she lets in. You can be dismissed if you don't care about your safety and mine. PrEP is your back up plan. " — Dr. Every Woman (a.k.a. Dr. Wendy McDonald)
about QUEER CREATIVES FOR GAY TIMES MAGAZINE
starring
Rakeem Cunningham @rakeemc
James Bland @jrbland
Maurice Harris @bloomandplume
Tokeyo @tokesbadd
Devin Wesley @devinwesleyy
Matty Pipes @matty_pipes
Director, Cinematographer, editor
VASILIOS PAPAPITSIOS
5 queer creatives come together to discuss what it's like being young Black and queer in 2018.
Interview highlights with some fun behind the scenes from the shoot for Gay Times Magazine. Peep the full article @gaytimesmag
A LOT MORE ME - VIOLET CHACHKI
starring
Aymar Jean Christian, Roger Fierro, Felicia Holman, Abra Johnson, Phillip Lambert, Jr., Jordy Marilyn, Elijah McKinnon, Meida McNeal, Saya Naomi, and Ashley Ray-Harris.
CREATED BY
Aymar Jean Christian
Videographer
Vasilios Papapitsios
The Story
Serial Dreamer follows residents of a Chicago co-op in their everyday lives and their dreams. The series is an experiment in series development, how to use one series to pilot multiple series by intersectional artists. In the series, every episode focuses on a different character, serving as a pilot for a series by that writer.
Hair Story, a pilot for Serial Dreamer
In "Hair Story," the pilot for Serial Dreamer, we meet the residents of the Chicago co-op during their annual meeting where they have to sort out all their issues. We learn that Gia, acting president, has been doing hair for side money. Her friend and client Curtis interrupts her meeting to recount a dream they had about her.
Serial Dreamer is an ambitious experiment in queer TV development: a series of pilots about intersectional characters. In the full series, each episode focuses on one of the co-op residents and we follow them in their everyday lives and jump into their dreams.
starring
Niko Karamyan
Mia Carucci
Amelian Kashiro Hamilton
Sylvia Anne Kochinski
Michelle Badillo
Written & Directed
Tierney Finister
editor
VASILIOS PAPAPITSIOS
TART is a tongue-in-cheek look at the world of Hollywood casting in an age where "woke" is trendy but identity can be largely misunderstood. Niko plays Jared Taylor White, a quirky casting director blissfully unaware of his own misogyny.
produced by
THE OTHER HALF
FILMED, DIRECTED and edited by:
VASILIOS PAPAPITSIOS
Follow Erickatoure
IG: @erickatoure
FB: @avianceerickatoure
Twitter: @erickatoure

Song Produced by Adam Joseph
IG: @adamjosephmusic

Written by Adam Joseph & Erickatoure




 
starring
Indiana Tali, Lucio Nieto, Alyssa Kempinski, Jonathon Iglesias
produced by
Ashley George, Brandon Boudreaux
Assistant Director, Script Supervisor
VASILIOS PAPAPITSIOS
'Sometimes, Forever' is a dreamy exploration of young love and friendship for two young women living in desolate suburbia. Both best friends and experimental lovers, one's on the fence, one's completely enveloped in her queerness.
CREATED BY
VASILIOS PAPAPITSIOS
The Story
FYI
Facial Feminization Surgery
(FFS) is a set of reconstructive surgical procedures that refine typically "male" facial features to bring them closer in shape and size to typical "female" facial features.

"Undergoing FFS is not a matter of beauty. Sometimes I tell people about needing to do this, and they say 'but you're beautiful as you are.' While the intention is kind, it misses the point entirely. These procedures are the bare minimum of what I see myself needing in order to live a sustainable life as a trans woman.
I believe that at the very least these procedures will disrupt the unconscious process of strangers looking at my face and seeing a man. I need this not only to feel safe physically in the world, but to feel safe and comfortable in myself. No trans people are obliged to change themselves physically through hormones or surgery. I have recognized my individual need for these surgeries, and as such see them as making my life more livable." -June Jones (@small.tits.big.heart)

ABOUT ME
I'm a 22 year old afro-latina trans femme artist based in NYC, just hustling for my dreams. When i'm not working, you'll find me kickin it with my girls, munchin on a chopped cheese, or overanalyzing my feelings (she's a cancer lol). Since my move to the city, a little over 2 years ago, i've been focused on creating space/representation for black & brown trans/gnc femmes within the fashion industry, nightlife, online and wherever I can really. I've built my platform from the ground up, managing/representing myself and navigating it all alone; while this route has been a huge blessing in many ways, it unfortunately has proven folks in my line of work are quick to take advantage. Being ignored when asking to be payed and rarely getting compensated fairly combined with the daunting task of finding/sustaining a job where my trans-ness isn't a detriment have made it extremely difficult to save & pay for surgery on my own.

THE PROBLEM :'(
I've felt uncomfortable with my face since first puberty began to steer my features in a more masculine direction, not yet knowing that my unease stemmed from my desire to present femininely. While Hormone Replacement Therapy has helped me a lot, it can't refine whats already developed to match "feminine standards," and it sure as hell can't erase the social construction of gender that stirs discomfort & confusion within those who don't understand us, which makes visibility for trans femmes such exhausting, anxiety-inducing, painful, and dangerous work. My dysphoria towards my face has become crippling, as it affects every aspect of existing-making me question existence altogether. It takes so much out of me to walk out of the door, let alone lead a career that depends on radiating confidence, but I know there are so many young folks out there who need to see someone like them thriving independently..so I walk out of the door anyway.

I want folks to see me with their eyes, not misgender me with them. I wanna leave the house without feeling overwhelmed by anxiety and fear that I won't make it back. I don't wanna counterfeit confidence; When I see my face, I want to see the strong, powerful, and proud trans woman that I am.